LEO recognize the greatest enemy in an active shooter incident is time.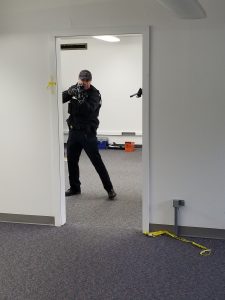 The 1999 shooting massacre at Columbine High School changed the way law enforcement officers (LEO) responded to threats in public places.
Police agencies around the nation transitioned from a hold and wait for SWAT protocol to the newly developed Quick Action Deployment Team (QuAD), sending their first four arriving officers in immediately.
Law enforcement agencies, particularly rural ones, recognize the challenges that the QuAD response tactic presents due to the lack of personnel and response times for backup officers.
The single officer approach is the most deliberate method of getting an officer in direct contact with the threat to neutralize it.
This is why Guardian Defense offers the Single Officer Active Shooter Response Course (SOASRC). SOASRC is a 3-day training course open to certified law enforcement officers for the purpose of training solo response to an active killer situation. Our next class is around the corner!
>>SCROLL DOWN TO REGISTER<<
Course Details
DATE: Saturday, October 6, 2018 – Monday, October 8, 2018
TIME: Check-In at 7:30AM on October 6, 2018. Class time is 8:00AM – 4:00PM each day.
LOCATION: Rains Intermediate School. 409 FM 3299 Emory, TX 75440
TRAVEL INFORMATION:
Closest Airports:
• Tyler Pounds Regional Airport (TYR) approximately 1 hour to site.
• Dallas Love Field Airport (DAL) approximately 1 hour 35 minutes to site.
• Dallas Fort-Worth International Airport (DFW) approximately 1 hour 40 minutes to site.
Hotels in Emory:
• Best Western Plus Emory At Lake Fork Inn & Suites– approximately 5 minutes to site.
• Bent Tree Motel– approximately 6 minutes to site.
There are other hotels outside of the city within close distance.
COST: $699/officer (additional fees may apply. Please see below for equipment requirements and payment method)
RATIO: 1:8 instructor to student ratio, with a course minimum of 14 students.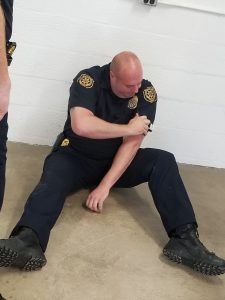 >>DEADLINE TO REGISTER: Tuesday, August 21, 2018<<
OBJECTIVES:
To identify active shooter and active killer threats

To understand one's direct role in an active shooter situation

To learn critical response tactics as a solo officer or team

To infiltrate the affected area as the responding officer

To implement limited penetration tactics to locate and eliminate the threat

To understand how to manage the scene after the threat is down

To implement medical trauma training for officers
Registration Requirements
Be a certified law enforcement officer

Complete registration information below, which includes information on our SOASRC Participant Agreement and SOASRC Cancellation Policy.

In the event the course does not reach the student minimum of 14, the course will be cancelled and refunded in full. Participants will be notified via email and phone by September 13, 2018.

Submit payment. Payment must be received by Tuesday, August 21, 2018
Acceptable forms of payment are:
Check. Please make checks payable to "Guardian Defense" and mail to:




Guardian Defense




1279 W. Palmetto Park Rd.




PO Box # 273155




Boca Raton, FL 33427

Credit or debit card through Paypal. Please add an additional $20.00 to the cost per participant for this service.
Equipment and Course Requirements
Required Equipment:
Glock 17t Simunition Handgun or any other 9mm Simunition or similar brand Handgun with a Conversion Kit (please see "Alternative Student Equipment" if unavailable)

50 rounds of 9mm Securiblank non-lethal ammunition

Rifle with Simunition or similar brand Conversion Bolt or Conversion Kit (please see "Alternative Student Equipment" if unavailable)

100 rounds of .223 Securiblank (for Conversion Bolt) non-lethal ammunition or 9mm Securiblank (for Rifle Conversion Kit) non-lethal ammunition

Eye protection

Ear plugs
Required Uniform:
BDU-style pants or approved Class B uniform

Department-issued shirt or polo

Department-issued vest

Gun belt

Tactical boots
Other Requirements:
Provide own lodging and transportation to and from the site location(s)

Be in good physical condition and health as this course is physically demanding

Be able to complete the course in its entirety in order to receive a Certificate of Training
Alternative Student Equipment
If a member of the class cannot furnish a conversion kit for their handgun and/or rifle, those students will use Airsoft handguns provided by Guardian Defense. There will be an additional $50 equipment rental fee for utilizing this equipment. Students will then run dry drills with their rifles.
If you are renting this equipment, please ensure to add an additional $50 to your course cost.
Additionally, please take note of the alternative equipment required for each student if conversion kits are unavailable and GD will be supplying the Airsoft guns.
Alternative Student Equipment Required:
(2) Airsoft Green Gas, 8 oz cans

Department-issued Handgun (and Bluegun Handgun or Red Gun Handgun if available)

Department-issued Rifle (and Bluegun Rifle or Red Gun Rifle if available)

Eye protection

Ear plugs
Guardian Defense would like to thank Rains ISD Police Department for hosting this program and Rains Intermediate School for use of their facilities.
Questions about Single Officer Active Shooter Response Course? Please contact Taylor Smith directly at 954-654-8912 or taylor@guardiandefenseplan.com.
Interested in hosting your own SOASRC? View our SOASRC Hosting Packet and then contact us!