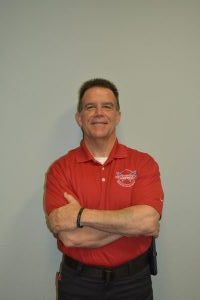 Brian Picard joined the Guardian Defense team in 2018. He specializes in teaching our Active Threat Response Programs for schools, businesses, and places of worship. In 1980, Brian started his career with the US Air Force, and served six years as a Military Policeman. During this time, he achieved the Rank of Staff Sergeant, awarded the Air Force Achievement and Good Conduct Medals. Brian also served as a Hostage Negotiator and was a team leader on the Critical Incident Response Force. He was honorably discharged in 1986.
In 1987, Brian joined the Connecticut State Police as a Trooper and served 22 years retiring as a Sergeant. During his career, he was a K-9 Handler and did numerous dog demonstrations at various elementary schools throughout the state. He was also a member of the Departments Motorcycle Unit and was involved in many Presidential escorts while in the unit. He completed five years as a State Police Academy Instructor Teaching Accident Investigation, Firearms, Defensive Tactics and Military Drill.
He was promotedto the rank of Sergeant in 1997 and was stationed at Bradley International Airport where he was certified on Aviation Security. Brian was the day shift supervisor when the tragic events of 9-11 occurred and was part of a mass humanitarian effort for all the stranded travelers that were diverted to Bradley from all over the world. The Connecticut State Police was instrumental in training what we now call TSA. His last duty station was Troop-A in Southbury where he was the day shift Supervisor. Many of my co-workers both sworn and civilian responded to the deadly and tragic shooting at Sandy Hook Elementary School located only 4.7 miles away from Troop-A. Even though he had been retired 4 years, this horrific incident had a major impact on him because of his personal connections. Upon retiring, Brian moved to Jacksonville Fl, where he became Director of Security for Florida State College at Jacksonville. He later moved to South Florida where he has served as the Director of Security and coordinator for various schools as well as a police academy instructor. He is also certified as a Florida Department of Law Enforcement Firearms Instructor. Brian graduated with an Associates degree in Criminal Justice.
What Our Clients Say About Brian!
"Easy to understand and helpful, Brian made me feel at ease."
– Participant from YMCA Boca