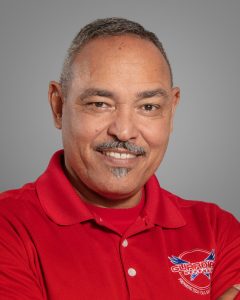 Carmelo Colon, Jr. is a valuable member of the Guardian Defense team. He has been with the company since its inception and has served as a great resource in program creation and implementation. Colon authored the Workplace Violence Prevention portion of the Active Threat Response Program for Businesses (ATRPB), a critical piece of the training provided to workplaces.
He is also the Lead Security Specialist for Guardian Defense and facilitates the Campus Active Threat Survey (CATS), a confidential security report provided to schools and workplaces identifying areas of security weaknesses and how to remedy them.
Colon is a jack of all trades and can lead and fill in at any area of the programming offered at Guardian Defense. He is bilingual in English and Spanish which has come in handy when presenting to groups who predominately speak Spanish.
Colon has also served the south Florida community as a police officer since 1990. During his years of service, he was a member of  the SWAT team for eight years where he held the position of an Entry Operator, Defensive Tactics instructor, and Close Quarter Tactics instructor for the team. He is a FDLE certified Defensive Tactics Instructor, PPCT Basic, and GAGE certified Defensive Tactics Instructor, Broward County Police Academy adjunct instructor at the Broward College, Public Safety Institute, FDLE certified Firearms Instructor and has also attended the Multi-Weapons Instructor School at FLETC and is certified as a federal firearms instructor.
Colon is a Taser Master Instructor and a Karbon MPID Master Instructor. He is also the department's lead Use of Force instructor, Chemical Weapons and FN 303 Less Lethal Launcher Instructor and a graduate of the Force Science Research Center as a Force Analyst.
Colon served as Field Training Officer for 8 years and a member of the Special Problems unit for 6 years. He was then assigned to the Training Unit for 6 years. He was the training coordinator and lead instructor for Defensive Tactics, Patrol Tactics, Response to Resistance and use of force issues, Field Force training and firearms training. He also teaches other specialties as EVOC and other police related courses.
Colon has studied martial arts for over 35 years and is ranked in various disciplines. Prior to his Law Enforcement career, he was a sergeant in the United States Army for 10 years serving as a tank commander and Army recruiter.
Currently, Colon is assigned to a unit specializing in crime prevention. As part of his duties, he teaches Response to an Active Shooter and Violence in the Workplace courses to civilian groups and school staff in the local area.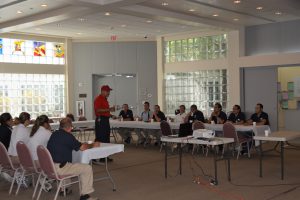 "Carmelo was very informative and good at pointing out reminders in an emergency setting."
-Resident Care Manager at Chapman Partnership
"Carmelo is personable, truly cares and very informed. A+"
-Dean's Secretary at a Private High School
"Carmelo was very knowledgeable and courteous. He was very calming."
-Dean of Students at a Private K-12 School
"Carmelo was patient with our ineptitude- but treated us as if he knew we wanted to keep kids safe- awesome job!"
-Campus Ministry at a Private High School