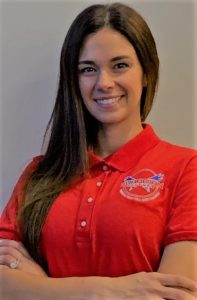 Danielly De Andrade is an instructor for Guardian Defense, joining the team in 2019. She has been a Police Officer at a department in South Florida since 2009 and is currently assigned to the School Resource Officer (SRO) unit.
She has taught and assisted in training school board employees the Active Killer curriculum throughout Broward County. Danielly has a passion to make sure everyone is trained and prepared in our local schools and businesses. She wants every teacher, parent, and staff member to be confident with a plan to face any life-threatening situation.
Danielly was born in Minas Gerais, Brazil and relocated with her family to South Florida as a young child. She attended Spanish River High School and graduated from Florida Atlantic University. She is married to a law enforcement officer and has two young children. Danielly is bilingual in Portuguese and English.
What Our Clients Say About Danielly!
"Danielly was able to impress the idea that situations will be different and it is important to have a plan."
– Director at First Presbyterian Church in Fort Lauderdale, FL