Imagine it is the weekend with your family and you decided to go to the mall with your wife and 2 kids. You are standing outside your daughter's favorite store, waiting for your wife and kids to complete their shopping…suddenly you hear a loud pop and people begin to run and scream.
What would you do?
This is the question that most people ask themselves after seeing an active shooter incident in the news and for the most part, many people I speak to don't really have an answer. Some of them try to play out the scenarios in their head, but still don't know what they'd do.
What if you were in the airport, movie theater, nightclub or other public place with a weapon-wielding attacker?
Let's say you were in a restaurant with your friends when someone began firing a weapon.
The truth is, there's never a perfect response. But, with a little planning and a boost of confidence in making a decision, you are sure to beat the odds set against you. This is where GD training comes in. For years, we have been training schools, businesses, and places of worship on how to protect their community. Unfortunately, with everything that is going on in the world right now, we recognize that there is an immediate need for individuals to know how to respond and protect themselves and their family.

This workshop is a 3-hour interactive training that provides civilians with options on how to respond to an active shooter or active threat when in public places.
The fact is lone wolves, domestic terrorists, international terrorists and violent people live among us. These individuals are monopolizing on the media attention given to past incidents and preying on people's fears.
WE DO NOT NEED TO LIVE IN FEAR.
Know that with a little planning and thinking ahead, you can have a plan for you and your family and be empowered to act!
During this training, you will learn how to:
                 >>Understand multiple victim attacks and the difference between active shooter, active killer, and active threat
                 >>Identify and use 5 key points to enhance your awareness in any environment
                >>Have a plan and know exactly what roles family members will play in response to an active shooter
                >>Utilize time effectively during an active threat and make time on YOUR side.
                >>Avoid shock, move past fear, and take action by understanding and managing stress and the physiological effects on the body
                 >>Increase your chance of survival by using the 5 immediate actions on how to respond to an active threat
                >>Recognize when and how to care for the critically wounded
When our team goes into a school or business, this training easily costs between $2500-$2800; however, we want to make sure that everybody has access to these live-saving techniques. It is so important for us to bring this training to the public, but don't worry… we're not going to charge you $2800. For the low price of $97, you will learn all that is listed above and more.
SPECIAL: Sign up now for $47!!
Hurry up and act now to get this great price!
THIS WORKSHOP IS NOW CLOSED

———————————————————————————————————————————————————————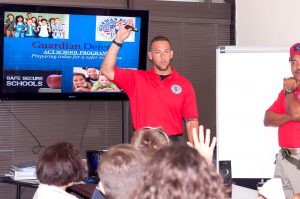 Guardian Defense was founded in 2013 by current law enforcement officer, Steven S. Smith. Following the tragedy at Sandy Hook Elementary in 2012, Steve realized there was a lack of cohesive training for teachers in schools to know what to do in the time between a tragedy striking and law enforcement's arrival.
Knowing that he had two young children at home who would be entering school in the coming years, he decided to utilize the skills and experiences he learned as a police officer, SWAT team member, and parent to create a program that taught schools how to respond to an active threat.
Since that time, Guardian Defense has expanded its services to meet the needs of the workplace, law enforcement officers and civilians. Join us for this life-saving experience for you and your loved ones!
———————————————————————————————————————————————————————
REGISTRATION:
Adults age 18 or older
Minors, age 15-17 are permitted, accompanied by parent/guardian. Upon completed registration, minor will be emailed a waiver for parent/guardian to sign.
Complete Registration Here (Payment is accepted by credit card through PayPal)
Registration must be completed by 5pm EST on April 22, 2017
GENERAL INFORMATION:.
CHECK-IN: Check-in will begin at 1:30PM and the course will start promptly at 2:00PM.
LOCATION: The course is centrally located in sunny south Florida at Nova Southeastern University's main campus in Davie. Once registered, you will receive an email with specific directions to the training space and information on parking.
WHAT TO BRING: A handout will be provided to you, but we encourage you to bring a notepad and pen for additional note taking.
WHAT TO WEAR: Comfortable clothing. This is an interactive lecture-style training with opportunities to work in groups.

Questions about How to Survive an Active Shooter? Please contact Taylor Smith directly at 954-654-8912 or taylor@guardiandefenseplan.com.