Michael Muccino joined Guardian Defense in 2013 as a scenario-based Program Instructor in various programs taught to our school, business and place of worship audience. Muccino is very thorough and organized in providing the program information to his groups of participants. He has received great feedback from the participants due to his ability to speak honestly and deliberately.
Muccino has also been an active law enforcement officer since 2005. He served as a patrol officer for the beginning years of his career. In 2009, Muccino was selected to be on the department's SWAT team and a few years later qualified for the sniper unit.
Also in 2009, Muccino was designated as a Field Training Officer. While still a patrol officer, he trained and guided newly graduated officers from the police academy. He trained recent graduates in all three phases of the program in various topics including: on the job teaching in crisis response, tactical learning, officer safety, report writing, and other skills necessary to manage effectively as a police officer. In 2012, he became a detective and currently investigates burglaries and other property related crimes.
Muccino has been the recipient of several departmental and public commendations, including "Officer of the Month". He has completed the Florida General Instructor Techniques course to gain further knowledge and experience in presenting topics to an audience.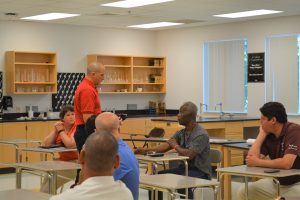 "Mike taught me how to react in the future and learn from them. He kept me calm and walked me through better options."
-Math Teacher at Katz Hillel Day School
"Mike M. was the best! Instructor was very informative, kind, well-spoken. We all really liked him!"
-Fifth Grade Teacher at Boca Prep International School
"Mike was amazing. He made great points and had excellent answers to our questions."
-Fourth Grade Teacher at a Private K-12 School
"Mike was the best! He was so kind, honest, informative, and made the scenarios feel real. We all really liked him!"
-Fifth Grade Teacher at a Private K-12 School