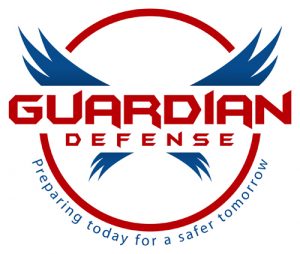 Guardian Defense Owners Named SCORE Entrepreneur of the Year
Delray Beach, Florida. January 4th, 2019 – Guardian Defense founders, Steven Smith and Taylor Smith, were awarded a prestigious honor for the 2018/2019 year. Score Mentors of South Palm Beach County presented the SCORE Entrepreneur of the Year award to the husband and wife duo.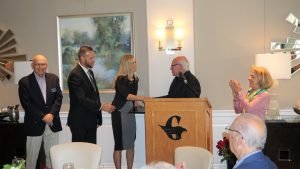 The luncheon occured on December 4, 2018 in Delray Beach, Florida. Event attendees included the Smiths' mentors: Dr. Cheri Florance, Owen Koff, Susy Macario, Joel Moses, Mark Malis, Duncan Adamson and Michael Lupo who have worked with the team over the past few years. Other luncheon attendees included community leaders, such as Mayor of Boynton Beach, Steven Grant, and generous supporters of the SCORE organization. 
SCORE Entrepreneur of the Year Story
Guardian Defense specializes in providing Active Shooter Training for schools, businesses, places of worship and law enforcement agencies across the country. Steve and Taylor were awarded this honor for their tireless work over the past 5 years building programs that empower civilians and LEO to take action and minimize mass casualties, in the face of a threat.
They were inspired to create Guardian Defense when Steve recognized the need to protect students and teachers from school violence. They realized by the time law enforcement arrived on scene, the incident was usually over. In some instances, more time equated to mass casualties. Steve knew he needed to EMPOWER the TRUE first responders in these incidents: the teachers. He developed a program that did just that: empower teachers to know how to respond during a critical incident.
This conversation came the evening following the tragedy that occurred at Sandy Hook Elementary. With an infant and toddler, sleeping soundly in their beds, the couple empathized with the families that lost so much. Shortly thereafter, they decided to dedicate their work to creating safer schools. 
The Smiths' passion along with Steve's background in SWAT and law enforcement and Taylor's experience in mental health administration led to successful growth of their business. However, both of them attribute their success to the SCORE Mentors of South Palm Beach. 
Honorees' Comments on SCORE Entrepreneur of the Year Honor
SCORE mentors consist of businessmen and businesswomen that offer free business advice to budding entrepreneurs. They provide new and existing businesses with the advice, workshops and tools to succeed. Steve and Taylor are both tremendously grateful for the advice and counseling that they have received from this program. 
"SCORE helped us establish a strong foundation and develop our identity as a business," said Steve Smith, president of Guardian Defense and a detective with the Fort Lauderdale Police Department. "The mentors helped us grow our business, build a team of passionate individuals, and improve our systems so we can work more effectively with our clients. Now we're at the point where we are working with clients across the country."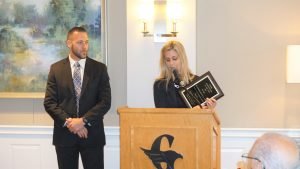 During their acceptance speech, Taylor expressed,  "the mentors demonstrate a want in seeing us succeed by: showing up to every meeting; giving us their full attention; directing and concluding the meeting on time; providing in-valuable expertise and referring out when necessary; going above and beyond their scheduled time to answer emails and phone calls; and lastly, providing words of encouragement."
She concluded with, "I hope you all are inspired by our lovely mentors to consider giving back to people like Steve and I in the future."