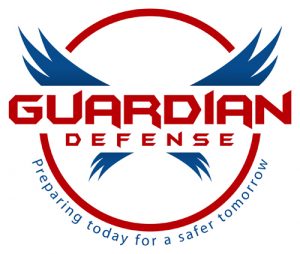 School Safety In Boca Raton – Schools Seek Active Shooter Training
Boca Raton, Florida. September 25, 2018 – With school back in session, school safety in Boca Raton is a major focus for local schools. Boca Raton schools are expanding their focus of safety plans to include active shooter training. Recent tragedies in Florida, such as the Marjory Stoneman Douglas High School incident and the shooting at a football game in Wellington have made school safety in Boca Raton the forefront of school officials, teachers, parents and lawmakers.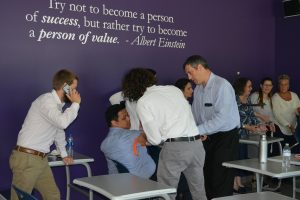 To prepare for the school year, many local schools seek help from experts in the field for developing:
active shooter response plans,
staff training,
and drill schedules.
Guardian Defense is the company that makes an impact on local schools on the active shooter training front.
Who is Guardian Defense?
Guardian Defense is a local company that specializes in working with schools and other organizations on how to prepare for, and respond to, a threat on site. Utilizing a variety of teaching methods (both working with administration directly and next the full team of staff) the goal of their programs are two-fold:
To set a foundation for threat response planning and training, and
To empower individuals to take action when faced with a threat.
Located in Boca Raton, the team at Guardian Defense share a passion for protecting civilians in Florida and across the country from mass casualty incidents. Led by south Florida native and current law enforcement officer, Steven S. Smith, this team is equipped with a wealth of knowledge and passion.
A Special Motive
At Guardian Defense, each team member has a special motive behind why they do what they do. They want to protect your children from a threat, just as they hope for their own children in school.
Guardian Defense instructors have school-aged children, grandchildren, or children they mentor; and they want to see them protected. Some are married to school teachers, 911 dispatchers and other related fields. They are ready to instill confidence in their audience.
Local Schools Choose Guardian Defense
Since coming into business in 2013, school administrators in Boca Raton particularly have trusted in Guardian Defense to prepare their staff and students. Review this list of Boca Raton schools who have used Guardian Defense's services in the past and present:
Participants at Saint Andrew's School in Boca Raton wait to hear their group assignments for the scenario-based exercises.

Boca Prep International School (2014) & (Refresher 2018)

St. Paul Lutheran School and Church (2015) & (Refresher 2018)
Saint Andrew's School (2015) & (Refreshers in 2017-2018)
Boca Raton Christian School (2016)
Spanish River Christian School (2016) & (Refreshers to come Fall 2018)
Karen Slattery Educational Research Center and Pre-School at FAU (2016)
Ruth and Taubman Early Childhood Center at B'Nai Torah (2016)
Katz Hillel Day School (2016) & (Further work in 2017)
Children's World Preschool (2016)
Katz Yeshiva High School of South Florida (2018)
These schools put effort into ensuring school safety in Boca Raton by seeking the assistance of experts in the threat response training field. Training is not only for Boca Raton. Guardian Defense travels throughout the nation to deliver this program. Just last month, they were at Sacred Heart Catholic School in Poplar Bluff, Missouri.
An Important Component: Scenario-Based Training
Guardian Defense works to provide various training modules and ignite the senses of all types of learners:
interactive lectures with live presenters, auditory clips, and audience participation
scenario-based exercises
written documentation and plans
opportunities for repetition and practical exercises through follow up drills
No one knows exactly what they would do if faced with a threat. Various teaching models that include scenario-based training provides the opportunity to learn how to prepare and make quick decisions. During scenario-based training, participants gain valuable insight into how these situations may occur and how to make a decision based on the information that is presented.
What Are Our Local Schools Saying?
School safety in Boca Raton and throughout the nation was apparent for the Guardian Defense team last month. Read testimonials of participants from some of the 9 schools that were trained in August 2018.
"Guardian Defense is great! They taught me more than I could have imagined during training. Our entire staff feels as if we are more prepared for an emergency situation. We now know how to protect our students and ourselves. We are very grateful for all they have taught us and we hope to have them back year after year to continue our training."

Tylar Tracy, Admissions and Marketing Assistant, Boca Prep International School
"Guardian Defense brought me to a level of where I am more confident in and observant of my surroundings. I also feel equipped and empowered to be a first responder to a threat that could be present. Thank you to Guardian Defense for bringing our staff to a level of confidence and security that speaks volumes to our families."
Pastor Steve Carretto, Senior Pastor, St. Paul Lutheran Church and School
 "We have utilized Guardian Defense for a number of trainings on our campus for faculty staff. [This year] Steve Smith presented a civilian active threat training for a group of our parents and it was one of the best presentations I have witnessed. The training was very well received by all who attended and helped our parents understand the measures we take to keep their children safe."

Anthony Hamilton, Directory of Safety & Security, Saint Andrew's School
"Amazing training. Imperative for all schools. Steve is highly knowledgeable, articulate and engaging. Never thought I could sit through such a long training and feel engaged and excited the entire time. I now feel confident that I will react appropriately in the case of an emergency. Also reminded that WE are the first responders in schools, and it is our duty to do the best we can possibly do to keep our little one's safe. Thank you for all you do!"
Rachelle Borges, Receptionist/Administrative Assistant, Boca Prep International School
"Guardian Defense has been a wonderful asset to our school. Our staff feels empowered and well trained."

Tonya Haberlein, School Office Manager, St. Paul Lutheran Church and School
Is Your School Prepared?
Guardian Defense recommends schools check their school safety preparedness by viewing these 15 Questions for School Administration. Schools needing assistance with plans and training should contact Guardian Defense immediately to help them get on the right track.
To learn more about how to improve school safety in Boca Raton, or in YOUR community contact the friendly team at Guardian Defense today!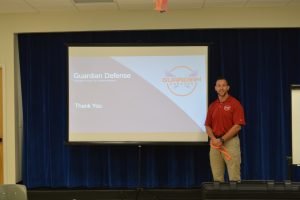 About Guardian Defense: 
Guardian Defense ("GD") came into business in 2013 following the tragedy at Sandy Hook Elementary in Newtown, CT. Current law enforcement officer and GD founder and president, Steven S. Smith, recognized the need for school staff to know what to do the moment a threat comes to campus. Since that time, GD expanded its services to reach businesses, places of worship and law enforcement officers as they learn how to plan for, and respond to, a threat on site. GD instructors serve clients throughout the south Florida region and the nation with the intentions of reaching as many civilians and officers as possible.
For Immediate Release:
Contact: Taylor Smith
Phone: 954-654-8912
Email: taylor@guardiandefenseplan.com