Chapman Partnership in Miami, Florida joined the many organizations in our country that have faced violence in the workplace just a few years ago, when an armed suspect discharged his weapon on his girlfriend at the exterior gates of the facility.
Violence in the workplace events like these have an effect on the entire organization.
What is the Chapman Partnership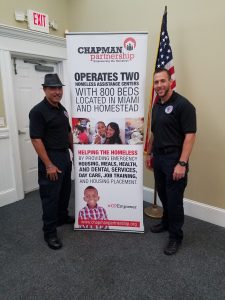 The Chapman Partnership is a non-profit organization serving the homeless men, women and children in Miami-Dade county.
This organization focuses on going beyond just food and shelter by providing  housing, meals, health, dental and psychiatric care, day care and job placement.
Chapman Partnership holds their mission dear to them to "empower homeless men, women and children to build a positive future by providing the resources and assistance critical to growth and independence."
However, ALL Workplaces Are Vulnerable to Violence.
The Chapman Partnership has 2 housing facilities, office space, learning and healing environment and 24/7 staffing and care.
Therefore, this organization is just as vulnerable to violence in the workplace as any other non-profit agency or business.
To help become more prepared, the Chapman Partnership participated in the Active Threat Response Program with Guardian Defense.
This is how we created a Comprehensive Safety Plan for the employees at this organization.
First of all, it is Important to Understand Current Security Measures
Understanding Chapman's current security measures and policies assisted us in finding the best way to work towards a comprehensive safety plan for not just their employees, but the homeless population they serve.
Most of all, building upon current emergency procedures allowed us to create plans that would work best for this center that provides care around the clock. This is because of the fact that the emergency procedures need to meet the needs of the organization.
Therefore, it is important to create a customized plan for each workplace that is catered to that specific organization.
The Importance of Interactive Training
However, simply putting procedures in a binder is not enough. Chapman Partnership employees, from lead administration to direct line workers, participated in the first portion of our Active Threat Response Program– an interactive lecture training encompassing lessons from workplace violence prevention to how to respond when a threat is on site.
This training is important to:
Educate employees about current trends and threats that affect our workplace today.
Teach employees how to take action and respond to these threats.
In conclusion,
We know that Chapman Partnership employees were grateful for the action taken by Ms. Schlam and the administrative team to ensure there is a plan of action for violence in the workplace.
Please take a moment to view VP of Human Resources, Planning and Organizational Development, Lois Schlam's, thoughts upon completing the program on violence in the workplace by clicking here.
In addition, some of the evaluations we received include:
"The lecture made us aware of the reality of our times. And to be prepared to do something under this type of occurrence. This was an excellent training and much needed especially in our field and the population we work with." -Housing Specialist

"The training's highlight was the interactions. First-hand knowledge. Instructor's experiences are worth so much more than a library full of textbooks." -Resident Care Tech

"What I liked most about the lecture was learning how to be active in a situation and not allowing the perpetrator to win." -Supervisor
To learn more about how you and your employees can combat violence in the workplace and feel safer, please visit our website. If you are ready to schedule a FREE consultation with one of our specialists, please click here.