Now that you've had a chance to learn why it is important to protect your workplace, take some time to learn about our program and training options for your workplace. Our Active Threat Response Program for Businesses (ATRPB) offers different options to meet the needs of any workplace.
Choose the Best Fit Active Threat Response Program for Your Business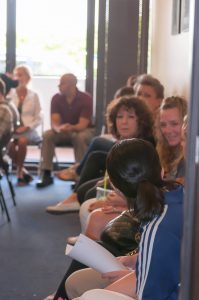 Not sure where to start?  Start by looking at some of the options available to you and then schedule an appointment to speak with us. Our specialists will first want to learn more about your organization so we can make our recommendations for the best place to start.
Certainly, read the options below then click here to schedule a time to speak so you can focus on your work and we can make your employees feel protected!
Active Threat Response Program Options:
Option 1: *MOST COMPREHENSIVE*
Full-Scale Active Threat Response Program: 6-Month Program for Administration and Staff
We are the only company in the world that offers a program and model like this for workplaces. The Full Scale Active Threat Response Program for Businesses is an in-depth, 6-month program. Furthermore, this program revolutionizes how administrators and staff respond to, and plan for, an active threat on site. The 6-month course will work directly, and separately, at concurring or at different times with a Lead Administrator (typically President or similar designee), Safety Team (typically Security Officer Unit or appointed staff members), and all staff employed at the workplace. Each month is separated by the Action that is being taken, the Objective of each action, and the staff members who are involved directly in that lesson.
Option 2: *MOST POPULAR FOR LIMITED BUDGETS*
Active Threat Response Program: 1-Day Training for Staff
The Active Threat Response Program for Businesses (ATRPB) is a full 1-day training designed to provide staff the confidence needed in order to protect and defend themselves and possibly others; in the event of an intruder, active killer, or other terror attack. The program includes an interactive lecture, practical application, and scenario-based exercise model. Therefore, we focus on having a low participant to instructor ratio to facilitate learning.
Option 3: *ENHANCED SECURITY FEATURES*
Campus Active Threat Survey: Confidential Report for Owner
The Campus Active Threat Survey (CATS) is a confidential report. We generate this report after we complete an evaluation of the campus grounds. The report addresses security topics pertaining to various areas of physical security, and details of the security procedures in place. As part of the evaluation, our Security Specialist utilizes a security concept called Crime Prevention Through Environmental Design (CPTED). Therefore, this concept is used in all areas of security planning and design, and has proven to be very effective in creating safe venues.
---
All businesses and office buildings are unique.  So, if you would like to discuss your specific concerns as it relates to an active threat in the workplace please feel free to schedule a complimentary assessment with one of our Safety Specialists today!
Please call 954-654-8912 or click the button below.


Our active threat training programs are offered at a discount to non-profit agencies.