Media Coverage of The Covenant School Shooting and Others
Each time mass shooting incidents occur, it seems the media takes a certain direction to highlight and rolls with it. Our organization was contacted by 3 mainstream media outlets (regionally dispersed throughout the U.S.) all wanting to know what our thoughts were on police response to The Covenent School shooting incident in Nashville, TN on March 27, 2023.
It's easy to make swift judgements, especially today, with accessibility to videos, photos, and data. I think we've also learned this quick access doesn't always give a full picture of the story.
This is not to say that we can't and don't learn from the mistakes and successes of the past. In fact, this is exactly how we learn. Our curriculum developers use data from After-Action Reports, investigations, and real-world experience responding to these incidents to continuously reassess and update our programs.
We agreed to take an interview with TIME Magazine, not to make quick judgements of the response. Rather, our intent was to educate the audience on what both our police AND schools (and businesses, places of worship, too) should be doing to prepare for a mass casualty situation like The Covenant School shooting.
Our section in the article, Swift Response to the Nashville Shooting Thrusts Uvalde Police Failures Back Into Spotlight, though brief, offered a platform to discuss advancements overall in police response. Are the outliers to this? Absolutely! We cannot deny catostrophic failures of some in the past. Generally speaking; however, police nationally have advanced, adapted, and improved their response efforts to the mass casualty incident.
The 3 Must Dos to Build an Effective Emergency Response Plan
One of the most important things that did not make the article is understanding how your organization can have a comprehensive approach to active threat preparedness. Conduct your initial assessment with our 3 "Must Dos":
"Does my [school, business, place of worship, security firm, police department] have…"
POLICIES in place;
TRAINING for all types of emergencies; and
DRILLS conducted on a regular basis
as a part of my emergency response plan?
Download our PDF "GD's 3 Must Dos to Build an Effective Emergency Response Plan" HERE.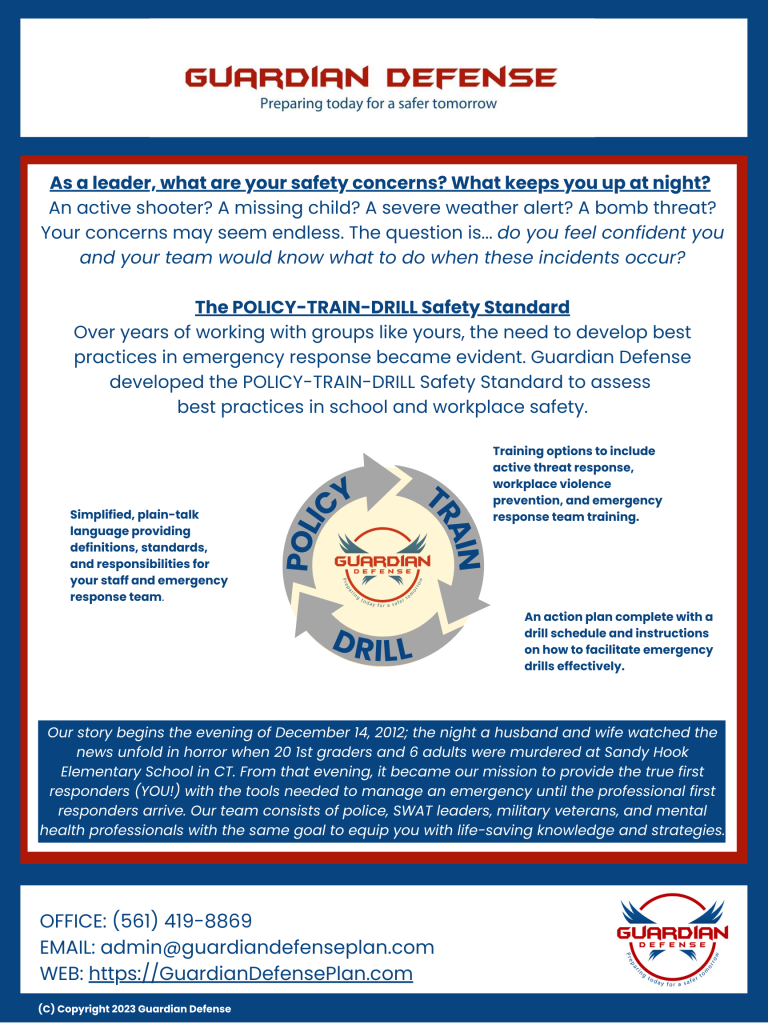 You can learn more about preparing your school or workplace by reading this article.
The Covenant School Shooting will not be the last…
It is hard to type those words, but that is the unfortunate truth. While we absolutely advocate, support, and train preventative measures, humankind can be violent. For those areas where an incident cannot be thwarted, we want you and your team to feel prepared.