Are you afraid you might not be able to protect yourself, your employees, clients and brand? Well, you are not alone. Conversations with employers and management teams have led us to believe there are more worries in 2020 than ever before! 
Do you share any of these concerns? 
Frustrated with the way life has changed so quickly before your eyes; 
Upset with those who don't follow the CDC guidelines; or contrary, you feel limited with the restrictions in your workplace;
Concerned about the mental health of your loved ones, or possibly yourself; 
Worried about how you can work efficiently while assisting your children with virtual learning, or aiding an ill family member;
Pressured by financial burdens after a loved one, (or yourself) was laid off; 
Afraid or even angry about the violent riots!
If so, we have just the right solution for you …
THE COVID COMEBACK PLAN!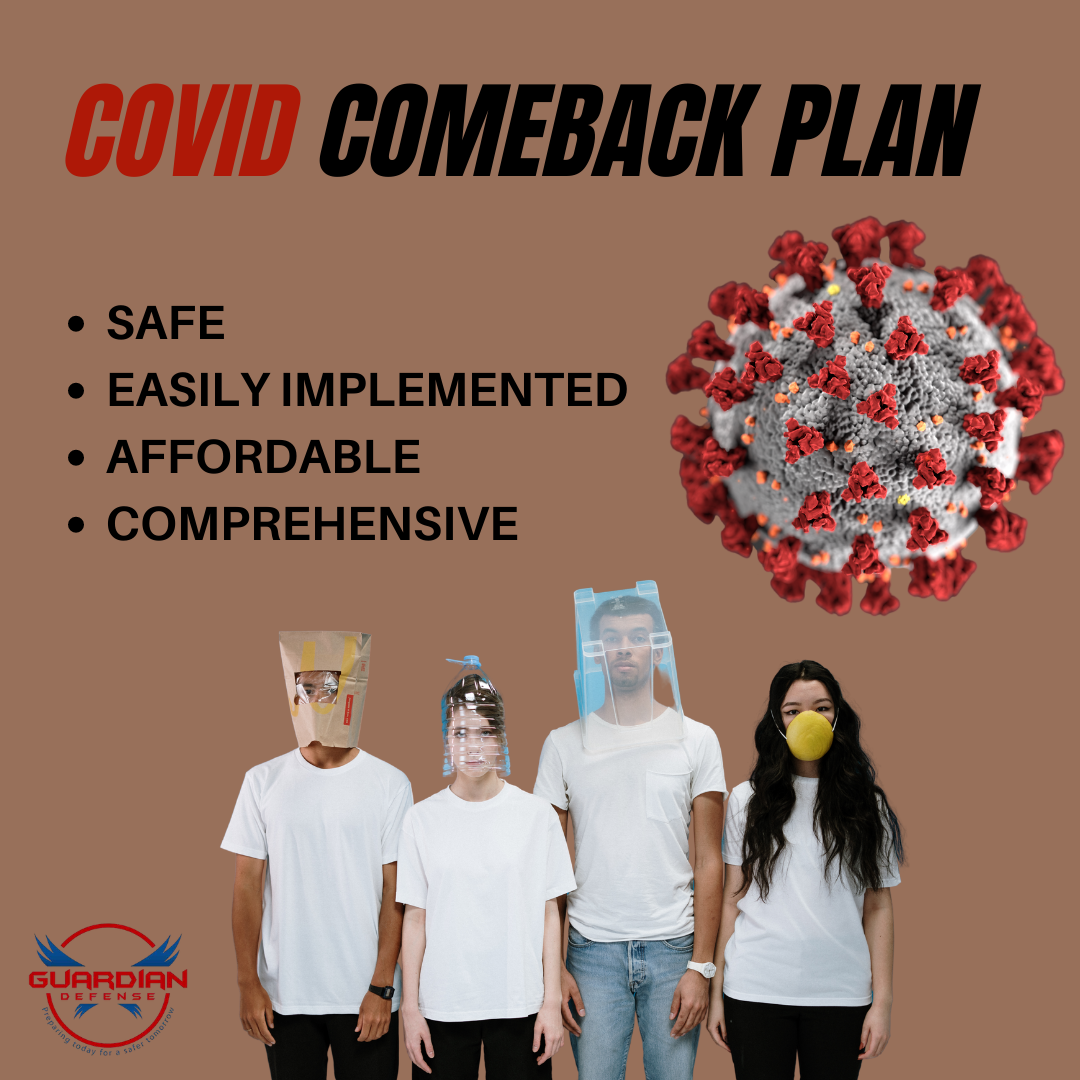 We want to put workplaces at ease and give them a quick, low-cost and effective solution that you can EXECUTE immediately to stay safe, while your team is working remotely. The COVID COMEBACK PLAN includes a comprehensive plan of webinar-based training, written policy, and consultation to put employees at ease while saving organizations millions of dollars in potential lawsuits. 
Who is it for? 
Any business or organization that is operating in-person, or functioning remotely. 
When should you do it? 
As soon as possible. Organizations are vulnerable, especially with all the focus on the COVID-19 pandemic. These plans are being facilitated weekly. Book immediately to ensure there is availability for your organization.
Where does it Plan take place? 
The COVID COMEBACK PLAN is intended to be worked on remotely. [Live Instruction available upon request.]
Why should you do it? 
When an employer hears their team's concerns, they want to have a plan and be proactive. Threats in the workplace always existed; however, these concerns are worse than ever today. The employer understands their obligation to provide a safe and healthy working environment for every team member.
Employers also understand, without preparation and training, devastation can ensue. Serious bodily injury or death will not only be traumatizing to the team, but also have a significant financial impact on the organization. Employers should expect significant expenses in the form of lawsuits, mental and medical care for the victims and repairs to the facility to name a few.  Documentation and testimonials from your team explaining your COVID Comeback Plan will go a long way!
The benefits of having a plan on paper and in place are unmeasurable! Just remember to be on P-A-R with your safety plan!
PREVENT what you are able to before something becomes dangerous or deadly;
AVOID high number of injuries or deaths when preventative measures fail; and
REDUCE both the traumatic and financial impact to your organization and brand.
What is the cost?
We are offering this plan for the mere price of $2,020!
Are there any hidden costs or additional fees?
There are no hidden costs or additional fees. Some organizations prefer to have a recorded version of the webinar to be available to those who missed it and add it to new-hire orientation. The recording fees are on a scale, based on the total number of employees at the organization. Please contact us with the total number of employees at the organization to learn about that additional fee.
What if we are interested in live, hands-on exercises, or more in-depth training?
We are still offering all of that! The COVID COMEBACK PLAN is our quick and cost-efficient option for those organizations who have been impacted financially, or are limited on time. 
* IF LIVE TRAINING IS REQUESTED, OUR STAFF IS FOLLOWING CDC GUIDELINES & LOCAL PROTOCOLS 
You Asked, We Provide… 
We understand most organizations have been hit hard financially. It is no wonder workplaces are asking what they can do NOW while they are working remotely to prepare for when they open, or how to continue to protect their in-person operations with all the current threats. We have worked diligently to put together our COVID COMEBACK PLAN for you! 
Please contact our office at 561-419-8869 to book the COVID Comeback Plan TODAY!