Detective Dustin Miller
Dustin Miller has worked with Guardian Defense as an instructor in the Active Threat Response Programs for schools, businesses and places of worship since 2013. Having been a part of the program's beginnings, Dustin has been able to contribute to these programs as the company continues to grow. As an instructor, he relays the information to the participants in a calming and assuring manner, which in turn creates an environment of confidence and growth. Observers have noticed that the participants feel comfortable asking questions in the setting that he has created. Dustin has been serving the south Florida community as a police officer for over 9 years. During his time as a police officer, he has served as a road patrol officer and as a detective in a specialized unit focusing on narcotics and burglary suppression. For several years, he served as a detective in a special victims unit, investigating crimes such as sexual battery, domestic violence and crimes against children. He is also sworn in with the multi-jurisdictional task force, which combats online child predators, as well as other forms of electronic child exploitation.
Currently, Dustin is assigned to the patrol division. He is also a member and instructor on the SWAT Team and a certified Firearms Instructor. In 2021, he was promoted to SWAT Team Leader. Dustin attended the University of Central Florida, where he served as President of his fraternal organization, Phi Delta Theta, and graduated with a degree in Criminal Justice. He is also very proud to say that he is a father of three and married to a 11-year veteran elementary school teacher. This provides him with an inside perspective that he uses while instructing school staff.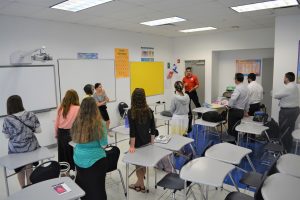 What Our Clients Say About Dustin!
"Dustin was very clear and answered all questions honestly. He was very competent and prepared."
-First grade teacher at Boca Prep International School
"Dustin was an excellent and well prepared instructor. Gave us perfect examples of different life scenarios."
-Program Assistant at Junior Achievement of South Florida
"Dustin was prepared, calm, professional, and knowledgeable."
-Educational Coordinator at a Private K-12 School
"Dustin- very knowledgeable and open to questions. Impressive!"
-VP of Education at Junior Achievement of South Florida