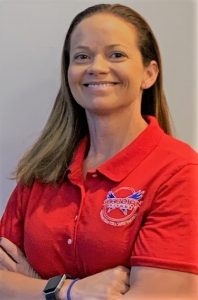 Lynette Falzone is an instructor for Guardian Defense, joining the team in 2019. She has been employed at a South Florida Police Department since 2000, and is currently at the Support Services Bureau. She was a Police Sergeant for 8 years and Police Lieutenant for 3 years before becoming Police Captain in 2015.
As Police Captain, Lynette was assigned as the Special Investigations Division Commander, which is responsible for investigating complaints and organizations of narcotic sales, money laundering, intelligence gathering and management, human trafficking, and threat response and investigation. In addition, she recently graduated from the Post Naval Graduate Executive Leaders Program, and was scouted to teach with the Public Leadership Academy as well as develop and teach leadership courses with a company based in Georgia.
Supervising the Threat Response and Investigation Unit, Lynette learned a great deal about the stark reality of active threats. Her inspiration for joining the team is through being the mother of young twins, noting that recent times have made our children, specifically schools, prime targets for active threat events. She fully supports educating as many people as possible in ways to protect themselves and react to a traumatic incident, and hopes to make the impression that the concepts being taught can be performed by anyone regardless of size, strength, or gender.
Lynette holds a Bachelor of Science in Criminal Justice and a Graduate Degree in Criminal Justice with a Certificate in Emergency Management and Planning, all from Lynn University. She loves traveling and teaching as she enjoys the challenge and self-development that comes with it.
What Our Clients Say About Lynette!
"Lynette was good at providing us with real-world scenarios that we could relate to our every day work."
– Church Director at First Presbyterian Church in Fort Lauderdale, FL