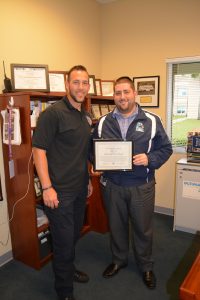 We are ecstatic to announce the "graduation" of Katz Hillel Day School in Boca Raton, Florida from our Full-Scale Active Threat Response Program for Schools on February 22, 2017.
Pictured: Joe Sharp, Executive Director of Hillel being presented with a Certificate of Completion from Steven S. Smith, President of Guardian Defense.
What is the Full-Scale Active Threat Response Program?
"This program worked to revolutionize the way administrators, staff and students respond to, and plan for, an active threat on campus or in the nearby area." 
How was it Implemented at Katz Hillel Day School?
For over six months, Guardian Defense worked with Mr. Sharp, Rabbi Adam Englander, and the Katz Hillel Day School staff to provide them with the comprehensive plan to responding to threats on campus.
Mr. Sharp, Rabbi Englander, the Hillel teachers and staff, and their newly developed Safety Team members all took part in learning new skills. These skills are now commonplace at their school and practiced with their students.

Equipped with written emergency response plans, trained staff, a safety team, and a continuum of drills.

Because of the program, staff, students and parents know that they are adequately prepared.
The Importance of a Comprehensive Training Plan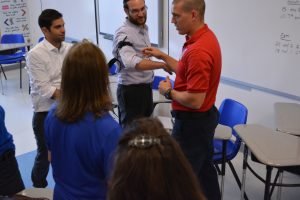 There are many types of threats.

Whether the threat is surrounding the building or has entered, it is important to know how to respond.

Staff can effectively respond to a threat when external security measures fail.

No matter which type of threat occurs, staff have practiced a plan of action.
Closing Remarks
Out of genuine love and respect for their community, Mr. Sharp, Rabbi Englander and the rest of Hillel leadership team devoted countless hours to this program to ensure they are as prepared as they can be.
As a result, parents, students and staff are grateful for Mr. Sharp and the program. 
Guardian Defense thanks Katz Hillel Day School for not only entrusting in our company to deliver this program, but also believing in themselves that they CAN do something and that they CAN make their campus the safest it can be.
Congratulations for completing this program and making a HUGE difference in the safety of your school!
To learn more about the Full-Scale Active Threat Response Program for Schools featured in this article, be sure to contact us directly at 954-654-8912 or taylor@guardiandefenseplan.com.