For Immediate Release 
CONTACT: Taylor Smith 954-654-8912
April 27, 2017
taylor@guardiandefenseplan.com 
Local company, Guardian Defense, offered a hands-on workshop at Nova Southeastern University on Sunday in response to mass shooting events that have affected Floridians, like the Fort Lauderdale Airport and Pulse Nightclub shootings.

Davie, FL – Guardian Defense, presented its interactive workshop, How to Survive an Active Shooter, for civilians in the south Florida community. This interactive workshop took place on Sunday, April 23, 2017 from 2pm-5pm. The workshop provided the community with a plan on how to respond should they be faced with a threat.
The workshop attracted locals and different professionals from around the community. "We had business owners, an attorney, insurance agents, a pastor, a school administrator, a psychologist, and many other professionals and members of the community present at our workshop," recalled Guardian Defense founder, Steve Smith. "I was very happy to see the interest in this topic from our community and how invested people felt about their own safety and the safety of others. There wasn't one person who didn't participate during the workshop."
Participants participated in an interactive lecture.
This lecture began by focusing on identifying signs of a potential threat and how to manage the body during stress-induced situations. Guardian Defense also dissected it's Five Immediate Actions on how to respond to a threat in public.
A demand manager and attendee commented that as a result of attending this workshop, she will be, "looking for warning signals that acquaintances may exhibit at work." She added that she will "recognize ways to force an active killer to re-orientate themselves, make time in [her] favor, and be more situationally aware."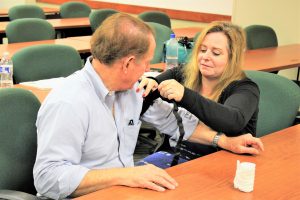 Participants learned an important factor that has led to a substantial number of deaths: the inability of critically wounded victims to receive treatment fast enough. Participants learned the proper use and function of items like a tourniquet and Quikclot. They also learned how to substitute these items with makeshift materials. "It is important to know that if you are critically wounded, you may only have minutes to do something before losing your life," urged Smith.
The workshop concluded with a series of scenario-based exercises in a realistic setting.
Smith stated, "We purposely didn't bring props and items for defense because we wanted the scenario to be as practical as possible. What if you were at a workshop on a college campus and a shooting spree began? What would you do?"
Participants broke up into groups and practiced utilizing the concepts learned during the workshop. Participants practiced breaking through that barrier of stress and taking quick-action. Smith noted, "As we always do, we debriefed each group and praised them for their actions. If you want people to know that they can truly save their own life and others, you have to encourage them to step out of their comfort zone. Scenario-based exercises followed by a group debrief offers incredible benefits to all involved- the participant, observer and instructor."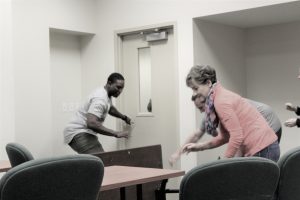 Following the workshop, local teacher and attendee, Julie Lesser, reached out to Guardian Defense and stated, "I was pleased to be included and appreciated the vital information that was given out in the presentation. [Your team] is so professional and knowledgeable and the delivery was dynamic so the afternoon was nearly enjoyable if not for the serious subject matter. The Guardian Defense program is such a worthwhile idea. I have shared the pamphlets and experience with my colleagues."
Click on the following links to learn more about this type of training for your workplace or school.