February is the month of love, the arrival of red roses, heart-shaped candies and touching messages in Hallmark cards across the country and over the world. It is a time to celebrate with family and friends by offering gifts, affection, kindness and love. Sadly, two years ago, love and grief became intimately related in our Parkland community.
On this first day of February, we pause to reflect and remember the lives lost at the Parkland shooting tragedy.  In 2018, Valentine's Day turned into a heartbreaking day that left Parkland, one of the safest ranked cities in Florida in raw anguish.  On a day we don't want to remember nor forget 17 lives who have brought indescribable joy, pride, inspiration, love and kindness to our community were lost in nearly 7 minutes.
Healing a community
Since the two years following the Parkland shooting, the Parkland community; residents, students, parents and professionals have worked tirelessly to turn the tragedy into positive change and meaningful action. Some took the lead in community healing, while others advocate for a change in gun laws. Some have brought the community together in loving, non-judgmental settings. Many worked to heal and move on from that traumatic event by making funding available for mental health.
Creating Change
In their journey, young Parkland survivors ventured out of their comfort zone and traveled the country teaming with other youth from all walks of life to make change. They have emerged as the driving force in calling for stricter gun laws in the U.S. through a series of marches, school walkouts and voter registration drives. Parents of the victims and in the community are leading changes to law, such as Alyssa's Law, which was first passed in New Jersey and working towards a national level.
Life Saving Training
The frequency of school lock-down drills has risen, and the need to provide staff training has become even more clear. Guardian Defense Co-Founder and Vice President, Taylor Smith reflects on that time, being the incident occurred just 15 miles from the Guardian Defense office.
"The phone, emails and online inquires did not stop coming into our office. School administration and parents alike were in a panic," states Taylor.
Parents demanded their children's school share how they were prepared for active shooter incidents.
"We found that schools and parents were open to anything: training, armed guards, metal detectors, clear backpacks, bulletproof backpack inserts. Suddenly, money was no object and there was a lot of hasty decisions made because the emotions were so high."
After the Parkland tragedy, Guardian Defense saw a sharp increase in schools seeking training, and refreshers for current schools worked with in the past.
Taylor notes, "Training is certainly something that teachers seek, and unfortunately, it takes a scare or an actual incident for administration to recognize this is a true need. I have noticed the parents that have the strongest voice. If they want something done at their school, they make it happen. This certainly played a role in the schools that we worked with in 2018. It was a tough year to work with schools. Living so close to the incident, everyone had a tie to Parkland. Our team of instructors embody a great deal of empathy and it was truly evident that year working with so many hurt hearts. For all the hugs they gave and tears wiped with tissues, they also armed them with tools to protect their students, leading to each day ending with empowerment, healing and confidence."
Reflect and Remember: How to Get Involved in the Healing!
This February, Guardian Defense celebrates the lives of the 17 angels gained through the Marjory Stoneman Douglas Shooting.  We remember the wounded and all the survivors who experienced the trauma on that unforgettable day.  We dedicate the whole month to their legacy, their family and friends who miss them terribly, and the community who keeps on pushing for their memories to live on. There are many great organizations that have dedicated countless hours to school safety as a result of this incident. Please consider donating time, efforts or money to further advance their cause.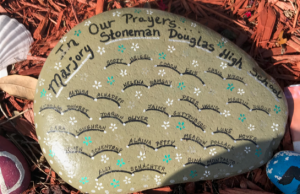 We jump-started the research for you here!
#17DayCelebration pays tribute to Parkland shooting victims                     
For 17 days, from January 28th to February 13th, Liz Stout, a graduate of Marjory Stoneman Douglas High School invites us to honor each victim. Each day is dedicated to a victim based on their personal interests and likes.
Take a Class Make a Difference. Yoga Heals at Evolution 2/14/2020             
Take a class with Evolution in Coconut Creek.  All classes are free!  Donations will be accepted.  All money raised will be given to ParklandCares, a nonprofit organization that provides immediate and long-term funding and awareness for mental health counseling for the Marjory Stoneman Douglas survivors and the community at large.
New playground opens in memory of Meadow Jade Pollack
Princess Meadow's Playground is dedicated to the memory of Meadow Jade Pollack.  It is located at Betti Stradling Park in Coral Springs and is dedicated to the memory of the victim, who was affectionately known as "Princess" by her family.
The playground symbolizes her motto: "Be kind to all kinds."
If you are in the vicinity, take the kids, stop by and relax in the new playground.
Open Kitchen, Open Hearts. 2/14/2020
Let our chefs serve you some love on this day when they open their kitchen for a FREE comfort food buffet lunch from 11:30 am – 2:00 pm.  All donations will benefit ParklandCares. Parkland Chefs Catering is located on  9890 W Sample Rd in Coral Springs.
The 3rd Annual Marjory Stoneman Douglas Charity Golf Tournament
Guardian Defense is a partner in the MSD Charity Golf Tournament. This year's event will take place on Saturday, February 15th, 2020 at the Country Club of Coral Springs. We encourage you to come out and have a great day of golf. Food and awards will follow golf, to include fantastic silent auction items and great raffle prizes. 100% of ALL proceeds will go to the MSD Alumni Association benefiting Shine MSD, teachers, students and the victims' families affected by the tragic events of February 14th, 2018.
You can make a difference!
Join Guardian Defense and our community for the next 28 days as we honor, highlight and remember the 17 angels and survivors of the tragedy at Marjory Stoneman Douglas High School. Get engaged, participate and be a part of the healing!  We encourage you to post, share and celebrate the lives of these angels as we keep their memories alive.