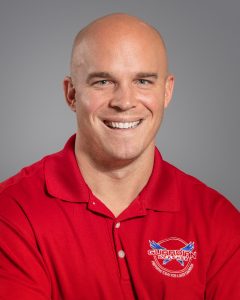 Jared Gross joined the Guardian Defense team in 2014 as an instructor for the Active Threat Response Program administered to schools. Gross facilitates his classes with his participants in mind. He provides a sense of ease and understanding for those whom he is teaching, while ensuring that his participants gain critical information and skills.
Gross has served the south Florida community as a certified police officer since 2005.  During his career in law enforcement he has worked in a number of units including Patrol, Narcotics, Burglary/Robbery Suppression, and Surveillance.  Since 2008, Gross has been a member of the SWAT team.  During his time on the team he has served his community under various roles such as that of an operator, sniper, and other specialized unit within the team.
Gross is a Federal Law Enforcement Training Center certified instructor in Tactical Combat Casualty Control and has completed the Florida General Instructor Techniques Program. Following this certification and training, he became an adjunct instructor through which he teaches officers emergency first aid to save lives from traumatic blood loss.
In addition to teaching Active Threat Response protocols as a member of the Guardian Defense team, Gross also spends time as a certified instructor for the Broward County School Board Active Killer Program. This program was initiated by Guardian Defense founder in 2014 and has continued to be implemented each year since it was enacted. 
Gross is passionate about teaching others how to protect themselves from school and workplace violence and has a personal connection to the work as the son of a teacher and the husband to a social worker who has worked in a school setting for the last 10 years. His combination of real-life experience along with his communication skills demonstrate why he is such a valuable member of the team.