Parkland Shooting Victims: Honoring 5 Years Later
This February 14th marks the 5-year anniversary of the tragedy that occurred at Marjory Stoneman Douglas ("MSD") High School in Parkland, Florida. On this date, MSD lost 17 lives to an active threat who bypassed security measures and gained unrestricted access into this school.
These lives lost meant everything to their family, friends, school, our south Florida community, and this nation. Following this tragedy, we learned of the #17DayCelebration, created by an MSD alumna, Liz Stout, who helped us all learn more about the Parkland shooting victims.
Each day leading up to February 14th is dedicated to one of the victims and their personal interests. Our Guardian Defense team participates in remembering the victims annually. Catch up on previous articles from  2019, 2020, 2021, and 2022.
We hope on this 5-year anniversary you will think of these victims and their families beginning today and through that February 14th date.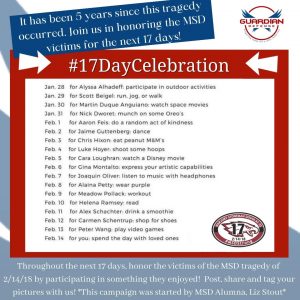 We encourage you to share this event with your friends and family. Our team will be sharing how we honor the lives each day on our social media pages: Instagram – Facebook – Twitter – LinkedIn.
A CALL TO ACTION FOR YOU!
Our mission provides knowledge to civilians on how to respond to a violent occurrence so we don't have mass killings like what we've experienced here at MSD, or more recent ones such as Robb Elementary in Uvalde, TX in May 24, 2022 and Star Ballroom Dance Studio in Monterey, CA on January 21, 2023.
Our call to action is to invite you to join us over the next 17 days. Participate in this event in any way that feels comfortable to you. We continue to work daily to ensure you and your loved ones are equipped with knowledge and don't have to experience mass casualties in our schools and workplaces again.
Whether in a private moment, or with loved ones, please remember the Parkland shooting victims today and moving forward.
#msdstrong
#17daycelebration