Parkland School Shooting: How to Get Involved in Honoring the Victims, Celebrating the Survivors and Stopping History from Repeating Itself
The Parkland School Shooting impacted the lives of families everywhere. Not just on February 14, 2018. Not just the next day, or the week after. The impact of this incident is unmeasurable and everlasting. Just as all the other mass killing incidents in our nation.
Collectively, our country came together and made the Parkland School Shooting lessons learned an opportunity to show the world the importance of providing safety measures to our most vulnerable population. Children should never have to experience what it feels like to be truly afraid to attend school, or to participate in a lockdown drill. 
With less than 15 miles away from the school, Guardian Defense ("GD") team members felt the impact this event had on the community. GD's founder and many instructors arrived on scene as first responders and witnessed the devastating consequences of that day. A GD team member lost a family member. Other GD team members live in, or grew up in that community.
The effects of this incident reaches greater than us at GD. Parents and spouses lost their children and loved ones and that is something most of us can never truly understand.
Annually, we have committed to dedicating the entire month of February to the community of the Parkland School Shooting.
Learn how YOU can get involved in honoring the victims, celebrating the survivors and participating in activities locally and virtually.
What can YOU do this month to honor and remember the victims of the Parkland School Shooting?
Many community members around the state have brainstormed ways to honor the lives affected by this event through services, fundraisers and law reform. Here's an updated guide of everything you need to know about this month.
Mobilizing MSD Alumni accepts donations for various causes benefiting the survivors of the Parkland school shooting incident. They offer information about organizations who help those affected by this tragedy. Learn more today!
This organization offers those suffering with the tools to cope with any traumatic loss, especially for the Parkland Shooting survivors and victims' families. It offers free, confidential, and anonymous services. Parkland Cares accepts donations to support their cause. In April 2021, they are hosting a fundraiser Golf Tournament in honor of the MSD Shooting. Contact them directly to participate, donate or sponsor!
Eagles' Haven is a community wellness center that offers ongoing wellness activities and resources for all MSD survivors, and affected individuals. For this month, they will be hosting an event from 10am-5pm outdoors on February 14th, 2021  (following CDC guidelines). To learn more, call (954) 618-0350.
Nova Southeastern University is hosting their annual event in honor of the Parkland School Shooting. The event will feature keynote speaker Olivia Feldman, who is an MSD Graduate, survivor of the tragedy, NSU Assistant Professor and first responder. There will also be a panel featuring Peter Caproni, Ph.D., NSU Associate Professor/Doctoral Practicum, Consulting/Supervising Psychologist at NSU University School and several others.
This event is hosted to create awareness about the long-lasting effects of Mass Violence. Professionals will share their knowledge on trauma and how a community can survive and grow stronger after a school tragedy.
Due to the pandemic, the event will occur virtually. To register, go to: Shark Chats: #MSDStrong Three Years Later – Survivors, Family, and Professionals Reflect.

The City of Parkland is hosting their annual Community Commemoration Service Project on February 14th in honor of the victims of the Parkland Shooting. If you want to learn more about their service fundraiser and what you can do to help, click here!
We encourage you to take a few minutes out of your day to visit this memorial! You can bring flowers, plants, or just take a moment of silence in honor of the victims that lost their lives during this tragic incident.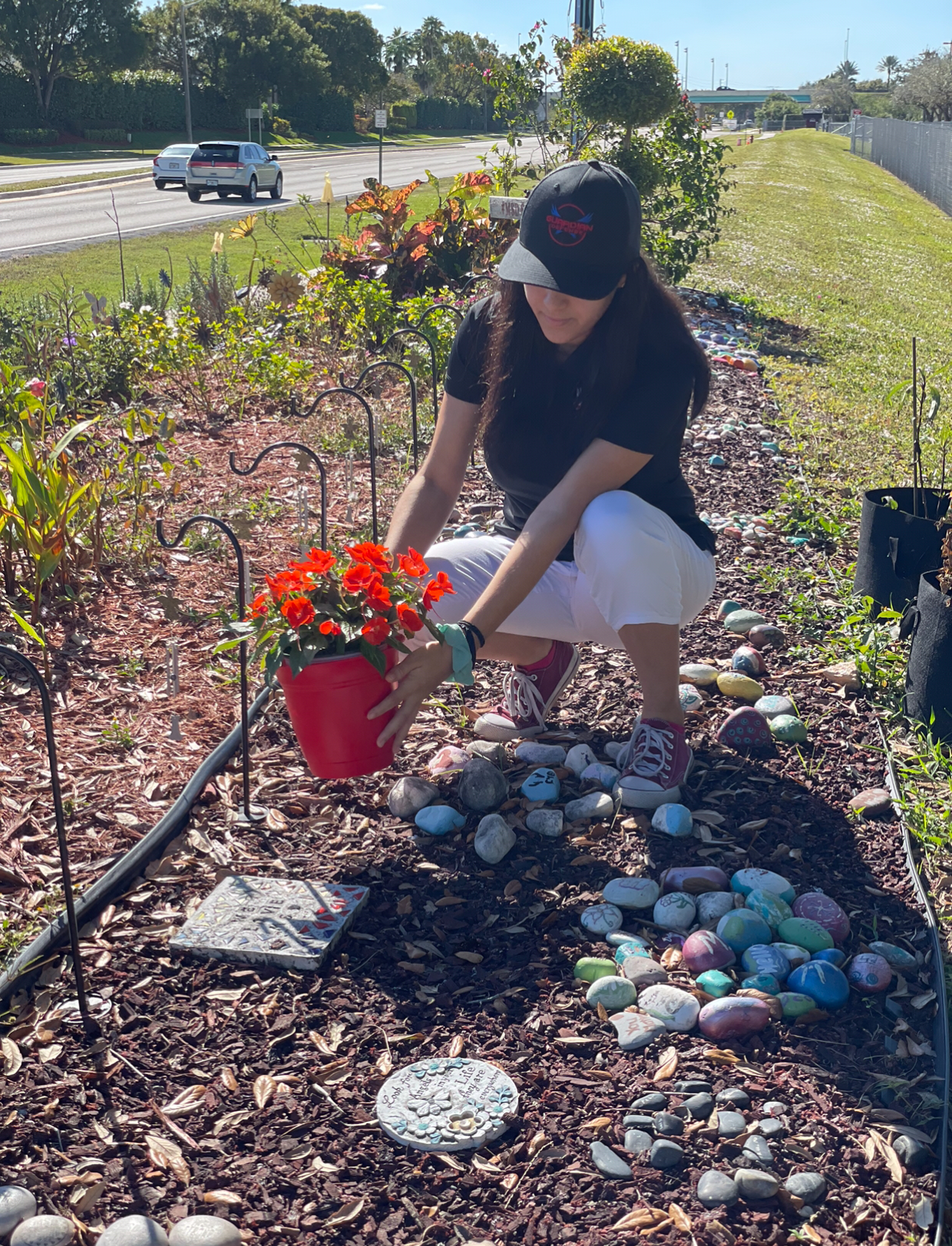 #17DayCelebration
Participate in the #17DayCelebration social media campaign! MSD survivor and alumna, Liz Stout, recognized the need to honor those who lost their lives this day and developed the #17DayCelebration social media campaign. For 17 days leading up to the February 14th date, you can participate in something that is memorable about each of the victims. Follow our GD team on social media and join along with us starting January 28, 2021 and ending on February 14, 2021! For fun photos, check out our #17DayCelebration social media campaign from 2020!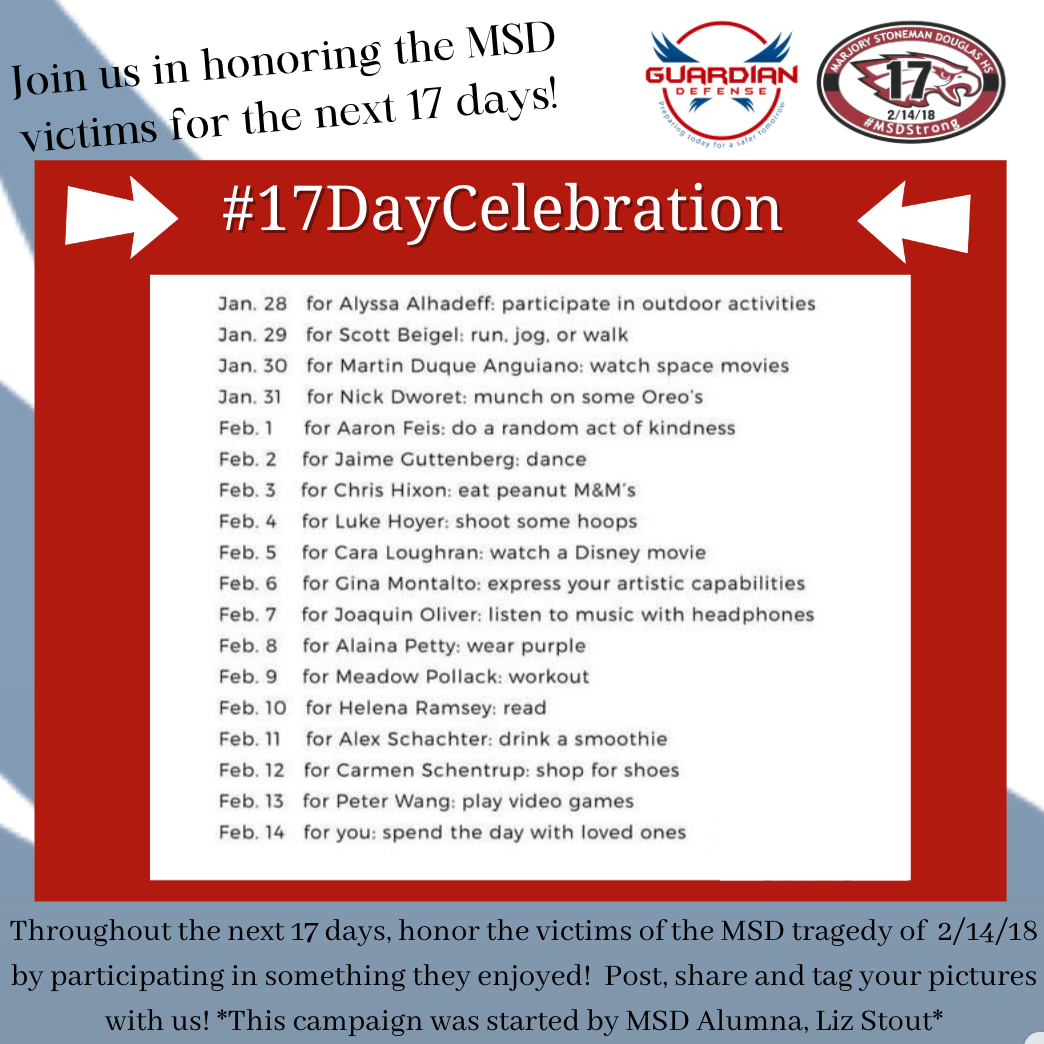 The Parkland school shooting incident is unfathomable. It may be easy to point fingers at one individual or group as the root cause of this event. In reality, this is a multi-layered and complicated event. If you aren't familiar with the incident, we've provided Quick Facts. It is important we learn from past incidents so that history does not repeat itself.
Quick Facts About the Parkland School Shooting
#1. When Was the Parkland Shooting?
The Parkland School shooting occurred on February 14th, 2018. A day dedicated to spreading love to those who are special to us. The firing of the weapon lasted under 7 minutes.
#2. Who Was the Parkland Shooting Shooter?
The Parkland shooting shooter was Nikolas Cruz. He is an alumnus at the school and was 19 years old when he committed this act. Nikolas Cruz had shown many concerning signs and suspicion he was suffering from mental illness. Unfortunately, no one could give the proper attention to address these signs in time.
#3. How Many People Died in the Parkland Shooting?
While in the building, Cruz managed to kill 17 people and left 17 severely injured. The repercussions of his actions continue today. Since that time, two survivors have committed suicide. Loved ones suspect the Parkland shooting was the direct cause of their actions.
Never forgetting the events that took place during the Parkland School Shooting is one of the many things we can do to honor the lives lost.
GD will honor the lives by having 2 themes for the month:
Honor the Victims – For the first part of the month, leading up to the anniversary of that date, GD will be participating in events such as the #17DayCelebration. We urge you to participate and follow along with us on our social media!
Take Action – For the second part of the month, look out for tips and information about how we can learn from incidents like these and minimize mass casualties in the future.
Follow us on social media to learn more about safety and survival measures! On February 14th, 2018, a community was hit, but not broken. We learn, and we do better!
To learn more about protecting your school, business, place of worship, hospital, law enforcement officer, or security guard, call us today at (561) 419-8869!
#MSDStrong