Emergency alerts notify groups of people during a crisis. Such incidents require functioning communication systems in order to minimize injuries and mass casualties. This article explores the various emergency alert systems available nationally, and for your organization.
What Are Emergency Alerts?
With such advanced technology these days, individual people and employees in the workplace reap the benefits of being alerted during a crisis. As a U.S. resident, we benefit from receiving emergency alerts through various notification systems. In the workplace, we are seeing more and more organizations investing in iPhone or Android applications and alarm signals, in addition to the typical intercom system.
What is the Emergency Alert System (EAS)?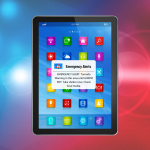 According to FEMA's Fact Sheet , "the Emergency Alert System is a national public warning system that requires broadcasters, cable television systems, wireless cable systems, satellite digital audio radio service (SDARS) providers and direct broadcast satellite (DBS) providers to provide the President with communications capability to address the American people within 10 minutes during a national emergency."
The EAS allows the public to be informed about severe weather, AMBER alerts, and "local incident information targeted to specific areas."
What Does the NOAA Weather Radio (NWR) Do?
Television, text messages, and public radio are the primary ways to receive emergency alerts. The NOAA Weather Radio (NWR)  is, "a nationwide network of radio stations broadcasting forecasts, warnings, and emergency information 24 hours a day. It is a comprehensive weather and emergency information service available to the public. All-hazards messages include weather events, technological incidents like chemical spills, AMBER alerts, and national emergencies."
What are Emergency Alerts Used for in the Workplace?
The EAS Emergency Alerts System represents a good system to replicate in the workplace. Just like the President of the United States informs us of emergency alerts at the national level, our businesses and organizations need their company leaders prepared. Their preparations allow delivery of critical messages to their employees.
Incidents such as active shooters/ active threats, fires, suspicious packages and medical emergencies require prompt communication. In the case of an active shooter in the workplace, swift action and communication to others can minimize mass casualties and injuries.
What Types of Alerts are Used in the Workplace?
We recommend at least two forms of mass communication for emergency alerts.
Intercoms
Many organizations already have an intercom system within the building, or a phone intercom. Typical intercom systems are a great alternative to requiring internet access in order to operate.
Applications
Over recent years, emergency alert phone applications have become a popular choice. These applications require a custom log-in for each of the organization's employees and notifications get sent directly to the employees' phones. Most apps also allow the employees to initiate the alert direct from their phone, without waiting for an administrator or front desk secretary to do so. Finally, many apps tie directly to the local police department for immediate notification and response to the incident. Such phone apps are beneficial since they can be on the person for quick access no matter where they are in the workplace.
Pull Stations
Alarms and pull stations, similar to a fire alarm are available as well. This allows visitors and guests who would not have access to the company's phone app to trigger an alert. Many alarms include a visual signal in addition to auditory sound to assist auditory-impaired individuals.
How Do I Turn on Emergency Alerts on my Android or iPhone?
You can turn your Emergency Alerts on your phone very rapidly and efficiently.
According to Apple Support, if you have an iPhone, you can:
Go to Settings > Notifications.
Scroll to the very bottom of the screen.
Under Government Alerts, turn the type of alert on or off!
According to Android Help, if you have an Android, you can:
Open your phone's Settings app.
Tap Apps & notifications.
Then Tap Advanced.
And finally, Emergency alerts.
* Tip: You can use this setting to manage AMBER alerts and threat notifications.
For more information about preparing your school, workplace, places of worship, college, or law enforcement officers, visit the corresponding links.
Training is the #1 way to know how to react in an emergency situation, and having proper communication is a vital piece for any training plan!